🏸Yuki Badminton Programs in Canterbury🏸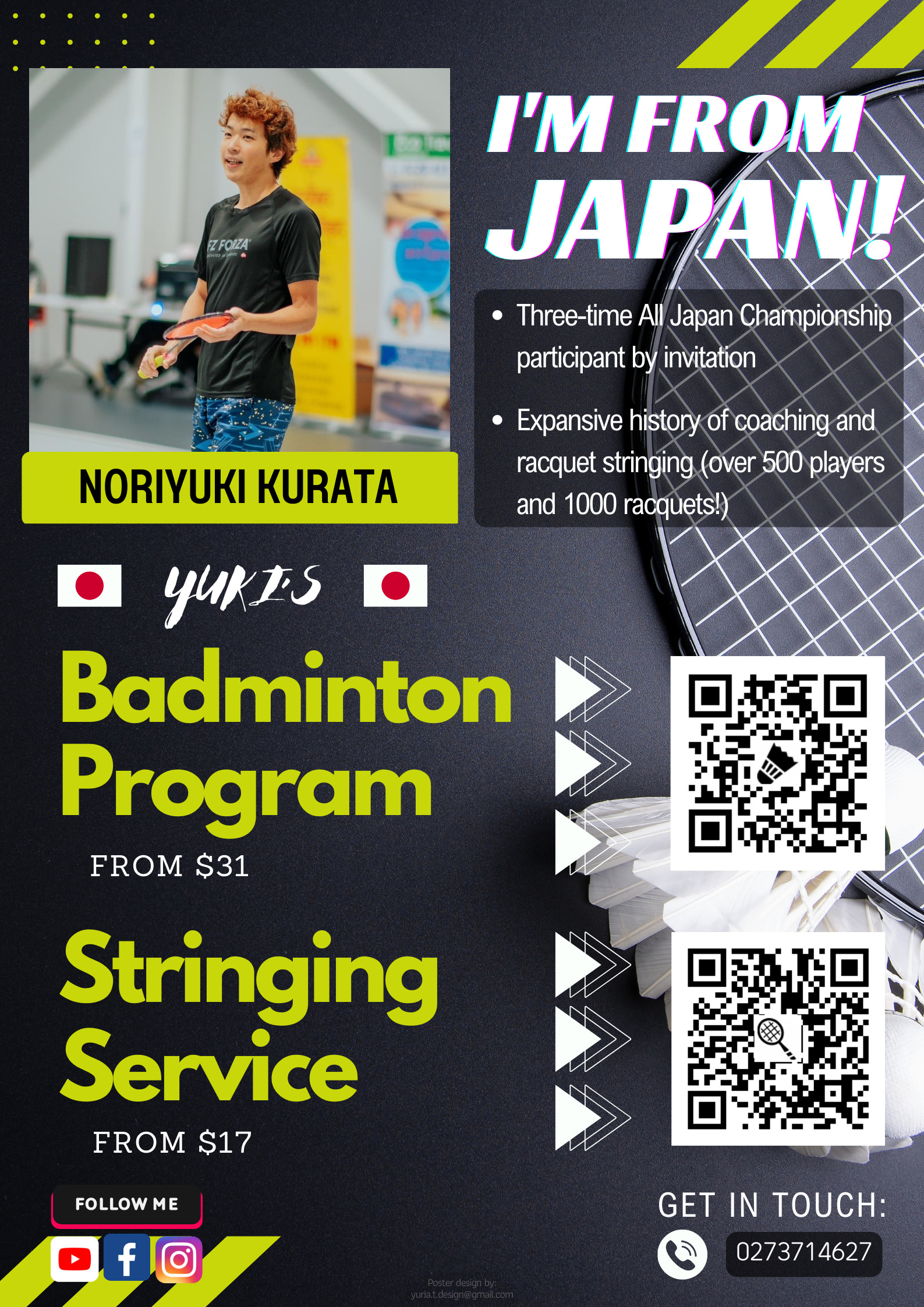 🏸Details🏸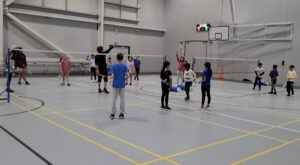 Basic Programs
・Basic Shot Practice (Drive/Drop/Clear/Push/Receive/Smash/Net)
・Patern Practice
・Feeding Practice
・1Court 33$/1H
・1Court 47$/1.5H
・1Court 60$/2H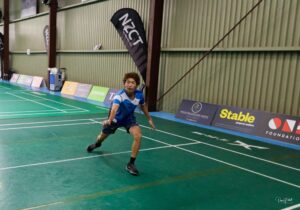 AdvancedPrograms
・Basic Shot Practice (Drive/Drop/Clear/Push/Receive/Smash/Net)
・Patern Practice
・Feeding Practice
※Take A Video And Edit It With My Advice On A Video (24H Can See)
・1Court 48$/H
・1Court 69$/1.5H
・1Court 88$/2H
🏸Profile🏸
NORIYUKI KURATA(I have been involved with badminton for 19 years.)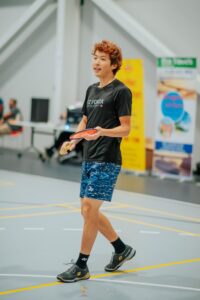 ※Born: Yamaguchi city in JAPAN
※Graduate: Osaka University Of Health And Sports Sciences
※Hobby: Badminton🏸・Poker🃏・Spear Fishing🐟・Fishing🎣・Snow Boarding☃️・Trip✈️・Sake🍶・Hot Spring♨️
※Career: P.E Teacher in junior high school and high school(2014-2017)
Badminton Coach in Japan (2014-)
Physical Trainer(2017-2018)
WebMarketing(2017-)
YouTuber・Blogger(2017-)
Gymnastics Class Teacher(2022)
※Achievement:Three-time All Japan Championship participant by invitation in Japan (2017/2019/2022)
Play Badminton in about 10 countries (🇻🇳🇹🇭🇳🇵🇦🇪🇬🇧🇺🇸and so on)
Climbed Everest BC(5364m)
Trip Around The World(2020)
Keep Body Fat Percentage Of 10% Or LessWellington North Open 2023 – NZ Tour
※Result in NZ:Wellington North Open 2023 NZ Tour – Singles QF
Otago open 2023 – Singles/Doubles SF
Accept Day(Updated 27 Sep 2023)
| | |
| --- | --- |
| Mon | 6:00-12:00 |
| Tue | 6:00-12:00 |
| Wed | 6:00-12:00 |
| Thu | 16:00-/18:00-/20:00-/22:00- |
| Fri | off |
| | |
| --- | --- |
| Sat | 6:00-10:00/14:00-22:00 |
| Sun | 6:00-12:00 |
Place
1.Zhu Badminton Center(I Can Book A Court Instead Of You)
2.Badminton Canterbury Arena
Contact Us
I Accept Text Message / Mail / SNS / Call
📱Tel📱
0273714627 
Please Write A Subject: About  Coaching「◯◯ course」
or
Write A Message: About  Coaching「◯◯ course」
WeChat ID : kura00001228
LINE ID : kura1228
If You Are Looking For Badminton Stringing Service,Click Here!
For The First Year I Started, I Couldn't Hit The Shuttle To The Racket. I hope you enjoy badminton.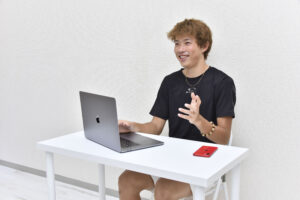 I Started To Play Badminton at 13 Years Old.
First I Can't Play Well… But I Was Elected All Japan Tournament 3 Times And Teach Badminton Over 1000 People.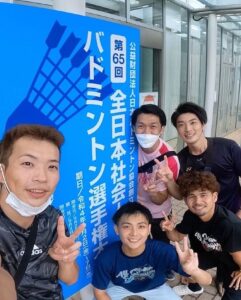 (In 2022 Sep)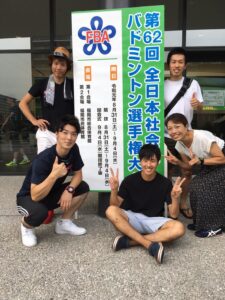 (In 2019 Sep)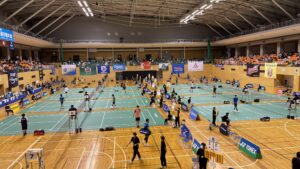 (In 2022 Sep)
Badminton Is A Very Interesting Sport! I've Been Playing Badminton For 19 Years This Year, I Am Happy To Meet Badminton Very Much! Make A Lot Of Friends, Have a Good Experience, Keep My Body And Mental Health Good So On! No Badminton No Life.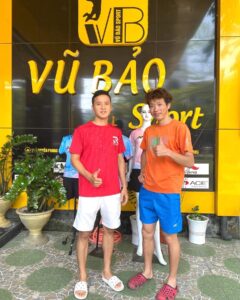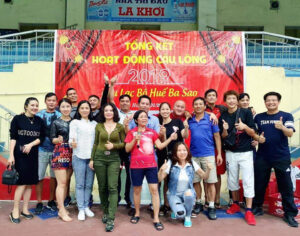 (In Vietnam)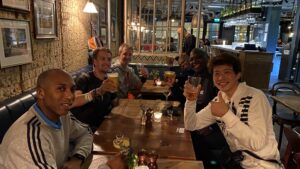 (In London)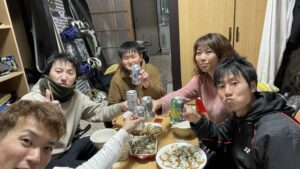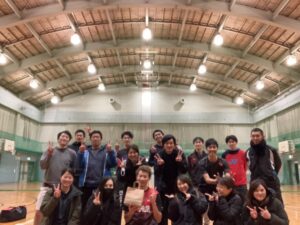 (In Japan)
It's My Important Thing Is「Enjoy And Respect」
Badminton Can't Play Alone, So Every Time Respect And Appreciate Mind To Each Player. Serious And Enjoy Is The Most Important. But To Enjoy Badminton, You Must Practice! Get More Skills And Physical, You Can More Enjoy Badminton! I'm Sure.
I Arrived At NEWZEALAND In March 2023. I Meet A Lot Of Badminton Players. Some Players Ask Me Coaching, So I Start Coaching Again In CHRISTCHURCH.
I Support Your Badminton Life With A Lot Of Knowledge And Experience And Various Teaching Methods. Please Feel Free To Contact Us First. As I Am Sure To Find The Right Course For You. Let's Enjoy Badminton Together!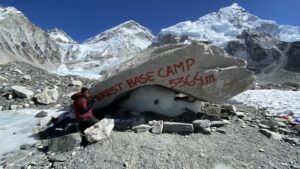 (Dive Into A New World!)
My Movie
1. My Singles Movie(With Red Pants)
2. My Doubles Movie(With Red Pants)
3. My Smash Teaching Movies
4. My Feeding Movie
5. Recently Movies(in Wellignton open2023)
Thanks, Regards.